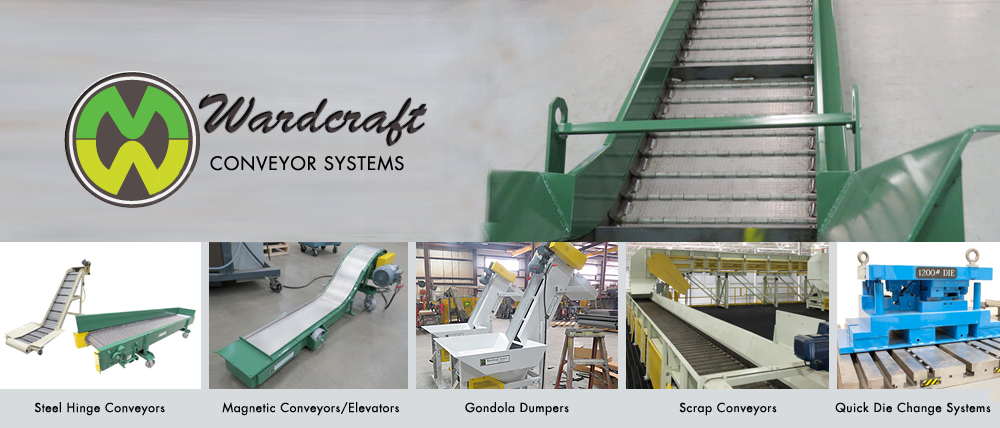 Conveyor Systems from Wardcraft
Wardcraft Conveyor provides standard and custom conveying solutions for the manufacturing and material handling industries
Steel Hinge Conveyors
Steel hinge conveyors are crafted to handle heavy-duty applications. They permit continuous operation under even the most demanding conditions, minimizing downtime. Common uses for steel hinge conveyors include stampings, forgings, fasteners, die casting, recycling and scrap metal, as well as the removal of all types of metal chips. Learn more.
Magnetic Conveyors/Elevators
The Wardcraft Magna-Vayor® is an externally beltless conveyor product that utilizes strong magnet power to transport metal chips, scrap or parts. Learn more.
Gondola Dumpers
The Wardcraft Model "PV", originally known as the Parts-Vayor® is a heavy duty conveyor that is primarily designed to move materials up an incline. It utilizes a cleated belt to maintain accurate control and separation of materials of any size and type. Learn more.
Scrap Conveyors and Separation Systems
Efficiently transfer metal scrap from stamping, die casting, laser cutting and machining operations with custom automated scrap separation systems from Wardcraft Conveyor. We design and manufacture our scrap separators for hostile industrial environments processing waste material. Learn more.
Quick Die Change Systems
Wardcraft's patented Quick Die Change (QDC) systems drastically reduce the time and effort of switching dies, increasing the efficiency and quality of your stamping operations. Learn more.
Questions? Contact us
Contact us with any questions regarding your automation needs. We have the expertise to help you find the automation components to keep your manufacturing facility running smoothly. We provide automation products to companies throughout Indiana and portions of Ohio and Kentucky. Contact us.