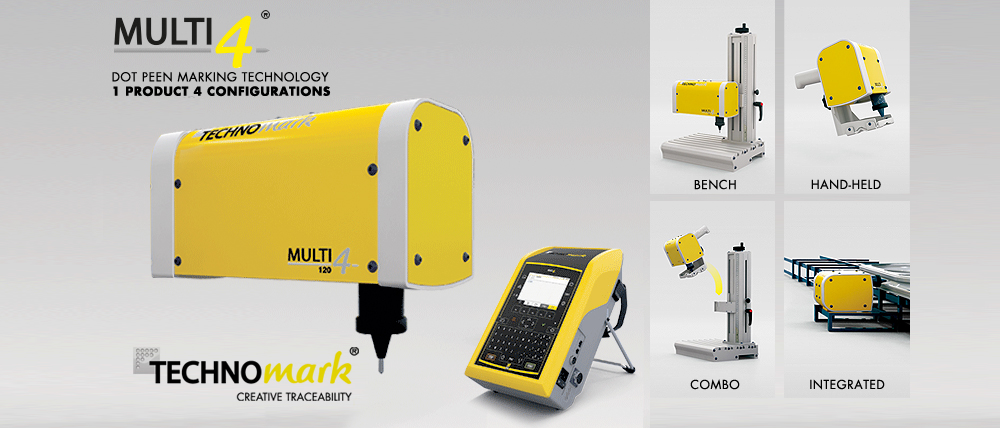 In order to meet your traceability needs, TECHNOMARK offers a wide range of dot peen marking equipment. Thanks to the innovative 4-in-1 concept, the Multi-4 dot peen marking system is available in 4 different configurations. Learn more.
FIND OUT MORE ABOUT OUR PRODUCT LINES
DOT PEEN MARKING SYSTEMS
Multi4 Mini
The ideal equipment for marking heavy, cumbersome and hard-to-reach parts in hand-held configurations. Learn more.
M4 Inline
Integrated dot peen marking. This dot peen marking range provides solutions developed especially for inline integration in production processes. Learn more.
Multi4 Combo
Combines two models: the bench and the hand-held model. The bench configuration is ideal for marking parts in a fixed position, the hand-held is perfect for hard-to-reach and large parts. Learn more.
LASER MARKING
Graphix Laser Marking
An "All in One" system. It integrates the laser source, the optic, the focal and the control electronic system. Learn more.
Graphix Inline Laser Marking
Includes two positioning diodes. Perfect for high speeds and medium to large production runs. Learn more.
VISION READING SYSTEMS
We produce high performance reading systems for both 1D and 2D applications. Learn more.
Questions? Contact us
Contact us with any questions regarding your automation needs. We have the expertise to help you find the automation components to keep your manufacturing facility running smoothly. We provide automation products to companies throughout Indiana and portions of Ohio, Michigan and Kentucky. Contact us.